2019 Festival
The seventh annual 2019 Redlands Festival of the Arts will be held on Saturday and Sunday, May 25-26, from 10 am to 5 pm in Smiley Park.
Who We Are
The Redlands Festival of Arts is a 501(c) (3) charity dedicated to the presentation of fine art to the community in a family-friendly public setting.  Our grants support student artists and emerging artists, helping them develop their talents and exhibit their works.
Grant Awards
Grant award applications are now open for 2019.  Click here to download the application and follow these instructions.
Download the grant application form, which is a pdf file.
Fill out the application form, which is write-able.
Save the application form with your grant request info.
Click here to email the application form to us. Be sure to attach the form.
If you have questions, call Festival Chairwoman Shirley Harry at (909) 214-7179.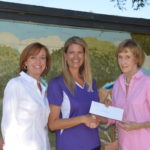 In 2018, the festival proceeds resulted in charitable grants of $1500.00 each that were presented to the Micah House Arts Program,  the Redlands Art Association's Youth Education Program and to the Redlands Educational Partnership (REP) Foundation AAA Academy.
Our Board
Shirley Harry, Festival Chairwoman; Lynn Whitmer, President; Shelley Rodriguez, Treasurer. Directors: Jerry Bean, Tom Cutler, Cheryl Evans, David Schepps and Nancy O'Connor.  Special liaison to the Redlands Art Association:  Kris Bussard
Contact Us
General Contact:  Shirley Harry, Phone: (909) 214-7179; Click here to email us. Media Contact: Randy Brown: Phone: (909) 223-6700; Email: brownr@rbmarketing.com