2019 Artist Applications Now Open
Artist applications are now open for the 2019 Festival. Interested artists should visit: www.Zapplication.org to learn more and to apply. For questions, please call Shirley Harry, Phone: (909) 214-7179.
Selection Process
The festival is a juried art show. The selection committee welcomes artists specializing in all types of media: oil, water color, glass, metal, stone, wood, ceramic, textiles, jewelry and more. Our goal is to provide festival guests with exposure to a wide range of creative media and experiences.
Why Exhibit
Thousands of Inland Empire residents attend the Redlands Festival of Arts every year. You'll find our beautiful outdoor venue is located in shady Smiley Park surrounded by the charming Smiley Library, the historic Lincoln Shrine and the popular Redlands Bowl.
2018 Festival Featured Artist
The Festival's 2018 Featured Artist was Sheila Hansberger, NWS, WW who is widely recognized for her beautiful watercolors, including still life artwork, historical buildings and other subjects. Click here to learn more about Sheila Hansberger.
2018 Artist Exhibitor List
The festival thanks all of its 2018 Artist Exhibitors.  Click here to see the list of artists.
2018 Judges
The Festival thanks its 2018 Judges:  Danielle Giudici Wallis and Sant Khalsa. They are both well respected artists with many years of experience.  Click here to learn more about them.
2018 Artist Winners
Congratulations to the 2018 Festival Exhibitors and Artist Winners:
Best In Show: Ivano Stocco, Painting – $2000.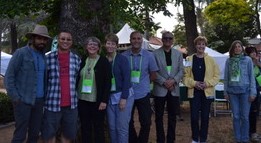 Two Dimensional Art: First Place – Seung Lee, Mixed Media – $1000; Second Place – Ginger Pena, Mixed Media – $500; Third Place – Jeffrey Skelly, Painting – $300; Honorable Mention – Sheila Hansberger – $100.
Three Dimensional Art: First Place – Robert Varela, Jewelry – $1,000; Second Place – Lucia Frederichy,  Sculpture – $500; Third Place – Glynn Galloway, Mixed Media – $300; Honorable Mention – Janet Chico,  – $100.
Student Artist Chalk Art Competition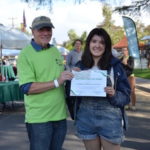 Congratulations to our student artists from local high schools in Redlands who competed in a sidewalk chalk art exhibition.  Piper Santos of Redlands High School won first place with her version of "Young Girl With a Flower," by Marie Laurencin. Second place went to Romeo Quinones, Citrus Valley, for "Persistence of Memory," by Salvador Dali.; third place went to Vivianna Vizcarra, Redlands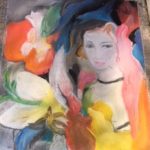 The Student Chalk Art Competition was organized by Tracy Massimiano, art department chair, Redlands East Valley High School. Fifteen student competitors participated from Redlands High, Redlands East Valley and Citrus Valley high schools.  Judges were festival board members: Kris Bussard, Cheryl Evans and artist David Schepps.