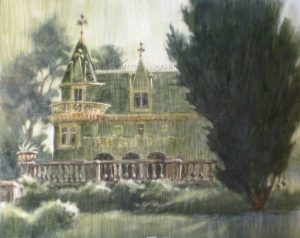 I love the outdoors, particularly wide-open spaces, rolling hills, and of course, the mountains!   Historic buildings also intrigue me, and I enjoy painting the relationship between buildings and the trees and gardens surrounding them.  Packing up my easel and setting up outdoors to paint or sketch 'en plein air', like the French and California Impressionists, inspires me and imbues my paintings of local landscapes with fresh color and atmosphere.
After graduating with a B.S. in Recreation, Parks and Natural Resources from Pacific Union College in Angwin, California, I married Richard Peña, a local school teacher, and moved to Southern California.  I worked as a Biological Technician with the U.S. Forest Service for several years, but a near-fatal accident proved to be a turning point in my life as I turned to painting to satisfy a need for creativity, self-expression and immersion in the outdoor landscape that I love.
My husband and I live with our cat in beautiful Angelus Oaks, California. I paint primarily in watercolor on archival aquabord, and I varnish my finished works so they can be framed like oil paintings, without mats and glass.  Click here to visit Ginger's web site.