Carolyn Henderson
Each detailed lamp work bead is created by melting glass rods with a propane/oxygen torch for unique color & texture. They are then kiln annealed. Anodized aluminum adds a fun dimension to many pieces.
Dangle Necklace, 6-x-3, $125.00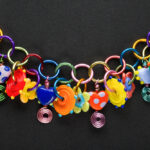 Bowl Necklace, 6×4, $225.00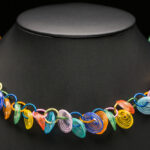 Lampwork Necklace, 6-x-4, $145.00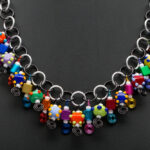 Purchase
Click here to visit the artist's web site for purchase and contact details.