Andrea Beechko
The artist creates jewelry using natural and semi-precious stones and Swarovski crystals using  fine plated wire, Argentium Sterling Silver, and 14/20 GF wire. Wire wrapping techniques create pendants, bracelets, earrings, rings, etc.
Garnet Grape Earrings 0.3×1.1×0.2 $26.00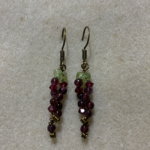 Silver Tree, Amethyst, Peridot 1.35×17.5×3 $88.00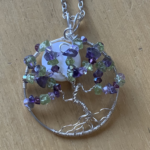 Tree 14k Gf & Tourmaline 1×1.5×0.25 $140.00
Purchase
Click here to visit the artist's web site for purchase and contact details.