Attic Art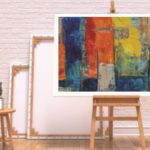 Plans for the next Attic Art Sale are under way!  Watch for more details to come here and on Facebook.
A big "thank you" to the donors, sponsors and guests for making the last Attic Art Sale a huge success. You came, browsed, shopped and enjoyed treasured art pieces from the collections of Redlands art lovers who support local youth organization arts education programs.
Sponsored by the Redlands Festival of Arts (RFA) and the Redlands Art Association (RAA), the last Attic Art Sale was a two-day art event with over 300 pieces of art that might typically be purchased in a gallery, but at bargain prices that could yield some lost treasures.
Event Chair Shirley Harry said, "This event was an exciting opportunity for new homeowners, those relocating to the area and art lovers of all tastes to acquire beautiful wall artwork suitable for a wide range of styles and decors at bargain prices."
The proceeds from the sale benefit the youth arts education programs of the Festival and the Art Association.