Susie Rubenstein
The artist's work is porcelain, thrown, functional ware. Many forms are altered, or cut and re-assembled with obvious seam lines to emphasize the process, then glazed and decorated with brushwork or glaze-trailed.
Gray Oval Vases 7×9.5×5 $95.00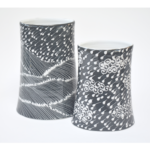 Nesting Bowls Set 11×2.5×11 $245.00 Each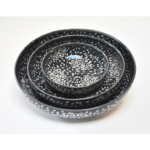 Tea Pot 9.25x7x6 $195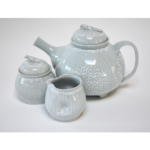 Purchase
Click here to visit the artist's web site for purchase and contact details.