Live Music
Musical Performing Artists
The Festival welcomes the following musical guest artists to its stages.  Click here to see their scheduled performance times and stage locations.  All appearances, stages and times are subject to change or cancellation.
Annie Jay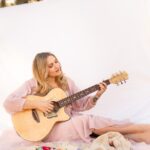 Annie Jay is a folk musician from Upland, California. She writes songs from the heart about love, nature and humanity. She can be found often with a banjo in her hands and writes also on guitar, ukulele and banjolele. A lover of whimsy and storytelling, her aim is to connect to the hearts of a listener through her lyrics and memorable melodies.
Cecelio Alvarez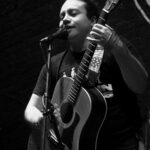 At age 9, a young Cecilio Alvarez sat captivated in front of the television set, watching Eric Clapton perform live on MTV Unplugged. Not knowing that years later this would become a pivotal moment in his life, he pursued learning guitar and developing his own unique voice with incredible intensity. His first EP, 'The Storm' released in January of  this year. His influences range from  Derek Trucks, Chaka Khan to Fleetwood Mac combined with an incredible talent for songwriting and the experiences that help fuel it. Click here to learn more.
ColeSlaw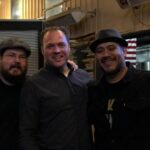 ColeSlaw is a fun groovy trio that has been playing in the Inland Empire for many a moon. They play a wide variety of tunes (cover and non) in their own crunchy way.
Dan & Cindy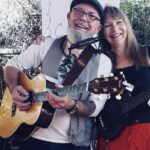 Dan & Cindy are a Calimesa-based husband and wife acoustic duo playing old, new and original Folk music from the heart.  Learn more here.
Dixie Sunshine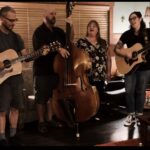 Dixie Sunshine put their roots down in toe-tapping Americana music, vintage country and western, and old-time Gospel favorites. Their exquisite vocal harmony and musicianship will charm the crowd 'till the cows come home. The band resides in the Riverside, CA area.
Emmalie Breen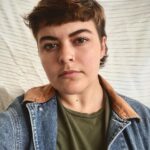 Emmalie Breen is an emotional folk musician who considers herself primarily a lyricist. She writes songs that tell stories, paint pictures and evoke memories shared by all. You'll hear the influences of the places she's called home from the Kentucky hills to the mountains of Utah and the people there who gave her life. Click here to learn more.
Fear the Gray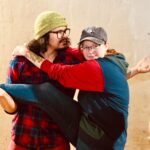 Fear the gray is an indie rock band from Redlands. Drawing inspiration from bands like Supertramp, Manchester Orchestra, Thrice, Tigers Jaw and local underground music. This band goes from heavy to dreamy guitar riffs sprinkled with beautiful vocal harmonies.
Felonius Plunk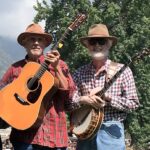 Felonious Plunk is composed of local guys Pete Roehling and Kevin Chaffee who have been playing together for over 35 years in several different formations. They play a wide variety of acoustic styles on guitar, dobro, and banjo. Pete began as a folk/blues guitarist at age 16 and expanded his repertoire working in the LA studios where he  was helped along the way by some of the best in the business.  Kevin began playing even younger than Pete, and he plays finger-style banjo, dobro and guitar. Click here to listen.
Gilman Carver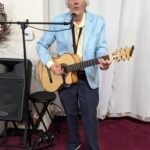 Gilman Carver grew up in Orange County, and played there extensively. He has played folk music publicly since 1961, and rock 'n' roll since 1964. He played sea chanteys on the deck of the "Star of India" in San Diego for 20+ years, while his trad-Irish band played many Irish pubs.  He is now Music Director for CSL Redlands.
Laura Bean & The Vagabonds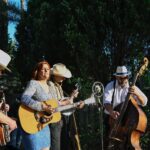 Laura Bean and the Vagabonds is a rip-roarin' bluegrass band based out of Southern California's citrus tree-filled Inland Empire.  With Kentucky born-and-bred Laura Bean on guitar, and traditional bluegrass aficionados Bill Purcell on banjo, Michael Pastucha on mandolin, Eric Pittman on bass, and 3- to 4-part vocal harmonies, a bluegrass experience is headed your way like a freight train. Click here to learn more.
Nicole Sol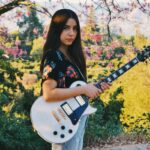 Since she was little, music was always a part of Nicole's life. When she was a little girl her grandmother taught her how to sing songs in Spanish and then encouraged her to join a youth mariachi group that was part of her school. Nicole learned how to play guitar, vihuela, piano and started gigging at a young age. Fast forward to present day, she now writes and produces her own music and is working on releasing an EP very soon. Her music is inspired from genres such R&B, soul, jazz, and bossa nova.
Paul Olives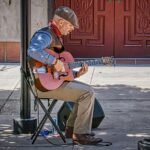 Riverside local legend Paul Olives is a world-class, spirit-lifting solo performer blending folk, jazz, rock & blues into a lively one-man band performance. You can follow his musical adventures online: @paul.onemanjams via YouTube, Instagram, & Facebook.
Plum Nelly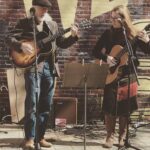 Plum Nelly is real folksy, bluesy gypsy jazzy with a pinch of soul and an Americana twist. This creative duo features Wendy Hunt on vocals and guitar, and Mike Proud on vocals, mandolin and guitar playing original songs as well as jazz and blues favorites.  Click here to learn more.
Porkboli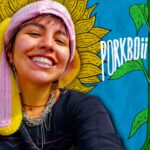 Porkboii is a singer-songwriter duo from Redlands, California. Their writing is heavily inspired by indie, dream-pop acts such as Frankie Cosmos, Mitski, The Cranberries and Mazzy Star. As with many songwriters, they write about love, friendship, work, money, etc. Their writing and performance style can be best described as earnest, sincere and soft. Click here to listen.
Ray & Peggy Ziegler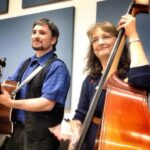 Peggy and Ray Zeigler have been performing music together since 1998. They play a wide range of instruments and cover a variety of styles: rock n' roll, country, bluegrass, jazz, blues and more. Peggy and Ray perform as a duo and with many bands in the Inland Empire and beyond. Click here to learn more.
Rideshare Jazz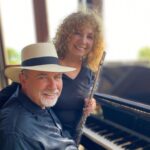 Laguna Beach based Rideshare Jazz plays Latin, standard and original jazz on flute, keyboards and vibes in a fun improvisational style and with interesting instrumentation you've never seen before. This duo is looking forward to a Redlands homecoming to play a varied repertoire including jazz, blues and Latin rhythms.
Sal & Isela con Los Salerosos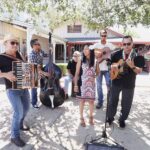 Sal and Isela con Los Salerosos are an Inland Empire-based band fronted by husband-and-wife duo, Erasmo (Sal) and Isela Salgado. Their self-described "Mexicanized-American music" is a blend of rock-n-roll, folk, and Americana mixed with musical rhythms and traditional song structures from south of the border. The band has performed at venues and festivals throughout the Southwest and their music has been featured on public and college radio.
The Dust Brothers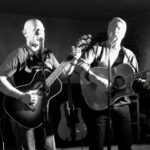 The Dust Brothers are an acoustic duo composed of Jim Pasiuk and Jim Booth.  They play folk, folk-rock and Americana from the 1960's, 70's, and 80's, and hail from Redlands and Yucaipa.
The Honey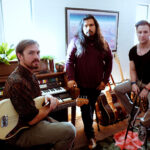 The Honey is a songwriting collective composed of all Inland Empire locals, but mainly based out of Redlands. Andrew Sandoval and Marsh Davis switch off on guitar, bass and lead vocals. On drums is Lucas Sutter and occasionally  members Tate Kinsella and Mark Ansah add bass and percussion respectively. Their music is a blend of psychedelic soul rock that draws influence from artists like Harry Nilsson, Grizzly Bear, Andy Schauf and Lady Wray.
The Neverlys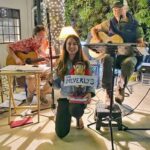 The Neverlys are an eclectic acoustic group founded by longtime Redlands resident Michael Taelour. They play all styles, mixing alternative cover tunes with original compositions. Their motto is, "All Killer and no Filler!"
The Smudge Pots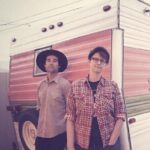 The Smudge Pots have been called "your local jug band" maybe that's because they are the only local jug band! Either way, they are a two-piece, sometimes three-piece acoustic band consisting of a guitar, banjo, bucket bass, and washboard and playing a mix of Americana, bluegrass, rockabilly, and blues in a jug style. Hailing from Redlands, The Smudepots have been playing together in various configurations for years.
The Sheptones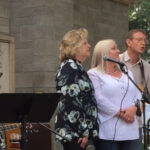 The Sheptones return to Art in the Park singing songs they like and that others do, too.  They mix folk, country, acoustic rock, blues and Americana.  The foursome has played with several local bands, especially the Buffalo Blues Band.
Tomorrow's Anthem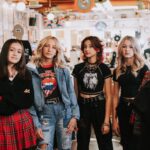 Tomorrow's Anthem is an all girl teen band based out of Rancho Cucamonga. They have been together for four years and enjoy playing classic rock, blues, funk, alternative rock, punk, heavy metal and they even have some original music. Members of the band: Shannon, Samantha, Jiya, and Teagen.