Sponsor: Tom & Julie Cutler & ChurchWest Insurance Services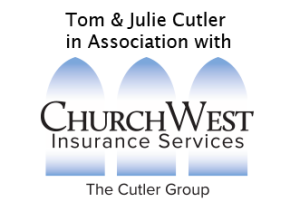 Thanks to ChurchWest Insurance Services for its generous sponsorship.
Tom Cutler founded 'Cutler & Associates' in 1967 as a general insurance agency (when his only associate was a basset hound named Lucy).  After 20 years, Tom found  he was most passionate about working with churches.  It was then, that Tom chose to work exclusively with churches (29 at the time). Twelve years later, he was working with over 300 churches when Charlie Cutler joined the agency.  Fast forward another 14 years and 'Cutler & Associates' is now known as ChurchWest Insurance Services and has grown to a staff of 35 professionals working with nearly 3,000 churches in California, Arizona and Nevada.